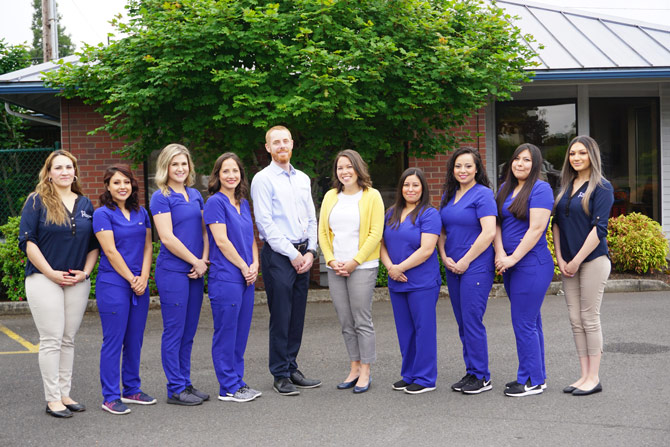 We recognize that all our patients are unique and deserve to receive dental care that reflects their individual needs. Our experienced and talented dental team is committed to working with you and your family to create a comfortable, stress-free, and rewarding dental experience every time you visit our practice.
We are pleased to welcome you and your family, and we look forward to working with you.
Colleen
Dental Hygienist
I love that my profession allows me to meet so many people while helping them achieve the best oral health possible. I love connecting with patients, learning about their lives, and making them feel comfortable because, as we know … who actually likes going to the dentist? I hope to make every visit as enjoyable and easy as possible!
As a hygienist, I provide comprehensive care specific to each patient's individual needs. In addition to taking X-rays, cleaning teeth, and providing fluoride treatments, I offer a practical education and encouragement. It's important for people to understand why it's essential to take care of their oral health and how best to keep their teeth and gums healthy!
I chose dental hygiene as a career in eighth grade, when one of my friends got his braces off and he couldn't stop smiling — I couldn't stop staring! I set my eyes on cleaning teeth and when high school graduation came around, my goal hadn't changed, so I figured I'd better go for it!
I am one of eight children — end of the line-up, lucky number seven. I love having a big family and being part of all the craziness that entails. I also absolutely love to travel. If you have any "must see" places, please send them my way!
Karina
Front Desk
I love helping people feel at home and cared for in our office, building real and caring relationships with each. It's amazing to see patients feel better about themselves and their smiles and to know they are comfortable with the thought of a visit to the dentist!
I work at the front desk, where I welcome and check in patients, assist with paperwork, and schedule their appointments at times that fit their busy schedules. I also present and review treatment options, explaining recommendations and answering questions. This ensures each patient makes informed decisions about their oral health and their wonderful smile!
My husband and I met in 2013 and got married in August 2018. We have a wonderful little boy and a baby girl on the way! We love planning and then taking family vacations to the mountains and the Oregon coasts. I enjoy cooking and shopping, as well as bowling and fishing with my little family!
Kelsey
Hygienist
I like connecting and building relationships with my patients. As I learn about their lives and activities, they learn that I care about them as individuals and that helps create trust, as they know I want the best for them.
I see patients for their initial screenings, offer thorough dental cleanings, and advise them on oral health and preventive care. I also work alongside our doctors, with each patient, to identify the individual's short- and long-term oral health goals and develop a plan to achieve them.
I have been married for more than a dozen years and have two boys and two dogs. We love outdoor adventures: fishing, hunting, and camping — anything that gets us outside!